CGL's Velo Village concept wins Club Peloton Cycling Facilities and Infrastructure (Conceptual) Award
Child Graddon Lewis is delighted to have won the prestigious Cycling Facilities and Infrastructure (Conceptual) Award for creating its Velo Village concept, announced at last night's annual Club Peloton Gala Dinner. All awards were reviewed by an expert judging panel consisting of Chris Boardman of British Cycling, as well as representatives from TfL, the NLA, British Land and PWC.
Hosted by renowned British sports journalist Ned Boulting, these awards aim to highlight the property industry's commitment to cycling. Following dinner and presentations at Lee Valley Velodrome, CGL directors, Simon Child and James Felstead, collected the accolade in front of a long list of industry leaders, as well as special guest and Team Pursuit Gold Medallist, Owain Doull.
CGL has long focused on creating places that provide positive social, environmental and economic impact. As such, the team recently undertook a research project – titled Find the Gap – that aimed to ascertain the challenges that London faces, as well as propose ways to create higher density, higher quality urban environments across outer London. As part of the solutions that were developed, CGL designed the Velo Village concept which aims to change people's perceptions of cycling simply by making it more accessible and easier to use.
Focused around the idea of encouraging cycling through enabling better access, the dwellings within the Velo Village have been designed with an integrated storage area adjacent to the entrance. The store is safe, secure, heated and large enough for a number of different types of bikes from urban to tag-alongs or cargo bikes. The store size relates to the type of dwellings so that families can be catered for just as much as the urban 'hipster' on their Fixie. Equally, an elderly person could access their electric bike without having to consider a six-storey journey to the basement carpark, for example.
Through these design challenges that the storage and vertical access to each unit creates, a new design typology has been established; the Velo Village. This is just one typology for regeneration and intensification of the urban environment. However, if introduced as part of any mixed use or residential development, it would encourage the wider use of all forms of cycling as a healthy and sustainable lifestyle for everyone.
Director, Simon Child, comments: "We're very excited to have received this great recognition for our work on the Velo Village concept, as well as the extensive research we've done into developing such solutions. Cycling has become incredibly popular over the last few years which is, in part, thanks to Britain's immense Olympic success. However, we need to make that cultural shift to cycling as part of life, rather than just for leisure or sport. It provides a number of important benefits, especially relevant to the regeneration of our urban surroundings. So, by looking at how we can further influence perceptions towards cycling, it can ultimately become more inclusive, flexible and fun for everyone."
The team behind the Velo Village concept includes: Simon Child, James Felstead, Sophie Latham, Joe Austin, Arun Baybars and Anthony Fitheoglou
Club Peloton is a charitable organisation which specialises in raising money for independent charities and creating business networks, using cycling as a platform for all its events. To find out more about Club Peloton, please click here.
Award Winner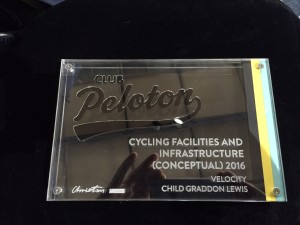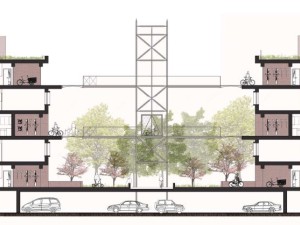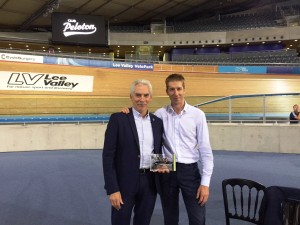 Related News
View All News & Awards