Child Graddon Lewis to cycle 310 miles to raise money for CRASH charity
03.04.2018
Child Graddon Lewis is taking on its fourth major charity cycle, aiming to raise £10,000 for CRASH, the construction industry's charity that builds facilities and awareness to support the homeless
An 11-strong team from CGL are once again combining their love of cycling with their passion for supporting such a valuable cause. In previous years, CGL's 'Wheels of Steel' cyclists took on the Tour de Yorkshire, London to Paris and Paris to Nice. This year's journey will see them start in France, departing from Marseille, to then make the 310 mile and 18,000 feet of cycling over the foothills of the Pyrennes to Girona in Catalonia, Spain.
The team have already received generous support from Motis, a major shipping company based in Europe, who has offered to cover all ferry costs for the trip and ACT Transport, who will provide the invaluable back-up support. Once they arrive in Marseille, the route will go as follows: Marseille to Le Grande Motte (90 miles), Le Grande Motte to Narbonne (80 miles), Narbonne to Collioure (70 miles) and finally Collioure to Girona (70 miles).
Simon Child, director at CGL, 'domestique' and 'team mechanic', comments: "This is an endurance test we really look forward to every time we do it. Whenever the road gets steeper we often think about the far greater challenges of those who CRASH support and this, in turn, gets us all to the top of the hill.
"CRASH has been a charity close to our hearts for years so it's great to have another opportunity to support their work. The team has been training very hard already – especially some of the newer members of CGL who may not have done anything like this before. We can't wait to get started and would like to thank everyone already for their support and for any future donations."
CRASH is the construction industry's charity, offering support and practical assistance to homeless and hospice charities via construction related projects. CGL has been a patron of CRASH for over 10 years, offering services and fundraising efforts as a means to support the amazing work they do. The ride is fully funded by CGL and the team members themselves and so all the money donated will go directly to CRASH.
To donate to CGL's cycle team, please click here: https://bit.ly/2Jg2Sov
To see how the team progress throughout their journey, follow @CGLUK on Twitter and Instagram.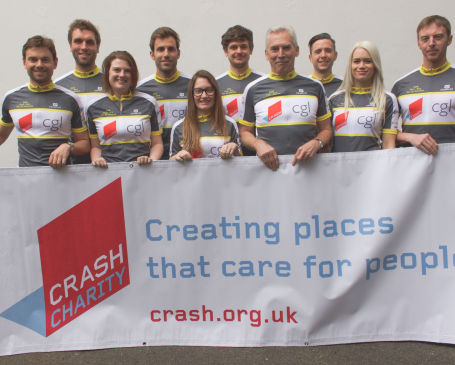 Related News
View All News & Awards