Allied London reveals plans for new concept building Enterprise City Campus at MIPIM
Manchester
15.03.2017
Allied London has revealed plans for a new concept building at Enterprise City (St. John's) referred to as Enterprise City Campus. With an initial design by architects Child Graddon Lewis (CGL), this latest idea for the masterplan has been announced at MIPIM to showcase how Allied London are responding to the rapid market demand following the launch of the Enterprise City brand last year.
Michael Ingall, Chief Executive at Allied London, revealed the proposed building at the Manchester at MIPIM stand during this week's conference in Cannes. Ingall commented: "It's MIPIM week and, as you would expect Allied London, with the help of CGL, has revealed a new idea. This is a concept building referred to as Enterprise City campus; a 500,000 sq ft integrated series of buildings that could be a new tech and media campus for Manchester.
At this stage it's only a concept, but could lead to a significant expansion of Enterprise City – it's the difference between 10 and 15 thousand workers. The building, if developed, would be an extension of Enterprise City, placed adjacent to the new Factory arts centre, and replacing part of the Trinity Islands development. It's deliberately designed for modern Industry and has a real purpose focussed on inward investment for enterprising businesses."
If developed, it could see the delivery of a major workspace facility, with retail and restaurants on the ground floor and ample car parking space at basement level.

Paul Graddon, director at CGL, said of the proposal: "Imagine waking up in the morning and looking out over stunning views of Manchester from your Trinity Islands apartment, going down to the gym, picking up your coffee to then walk along the river bank, into one of the most exciting and well-connected workspaces in the City.
The addition of Enterprise City Campus, to what is already one of the most forward-thinking regeneration schemes in the UK, creates another brilliant opportunity for Manchester and its residents. CGL is thrilled to be a part of it and this is made even more significant due to its location just next door to Trinity Islands."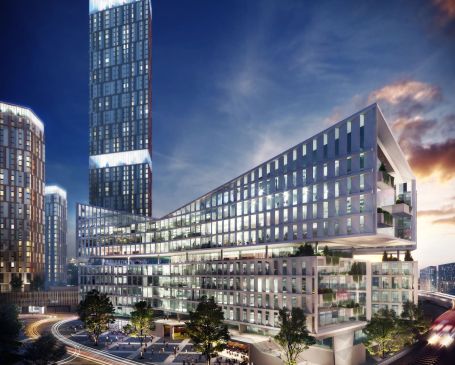 Related News
View All News & Awards