Victoria Wharf Celebrates Practical Completion
London
15.12.2017
348-352 Ladbroke Grove (now known as Victoria Wharf) a Westminster Community Homes (WCH) scheme designed by architects Child Graddon Lewis (CGL), has reached practical completion. With 22 homes available for intermediate rent, this project aims to provide some of the much-needed affordable housing for the local area.

CGL was initially appointed by Westminster Community Homes to produce a design that had to overcome significant site constraints, with the aim of building a high-quality contemporary building that differed from the usual affordable housing scheme. Built on a disused brownfield site, the scheme has been developed through a compact housing model that appeals to single buyers, reinforcing the concept of building for people from all backgrounds.

The council invested £5.5 million in the three-year project, which overlooks the Grand Union Canal and is adjacent to Ladbroke Grove in north Westminster. Some of the key features for residents will include an external gym on the terrace and smart thermostats to control heating.

WCH also wants to help its residents get a foot onto the first rung of the property ladder, creating an initiative whereby they can accrue £2,000 per annum that can be used for a deposit, subject to a good tenancy record. Ladbroke Grove will therefore act as a crucial stepping stone for many first time buyers, helping them towards a move into homeownership; expectedly through shared ownership.

Westminster City Council Cabinet Member for Housing Rachael Robathan said: "This high quality, contemporary design sets a new bench mark for local authorities building affordable homes. We have said we will deliver 1,850 new affordable homes across the borough by 2023 and we are demonstrating our commitment to keeping that promise. It is an absolute priority for the council to ensure people on average salaries have the chance to live in Westminster.

"The council has put developers under pressure to deliver affordable housing but we need to do our bit too. This project creates more housing in the heart of London."

Arita Morris, director and lead architect from CGL comments: "We are obviously very excited to see our design for Ladbroke Grove come to life. This has been a very exciting, yet challenging project, working within a very restricted urban site. We worked very closely with Westminster Community Homes to deliver their vision, while ensuring the project met affordable housing requirements and we're delighted to see that this has been achieved."

The design

The site is situated on a prominent junction between a busy road and the Grand Union Canal. It offered an opportunity to create a landmark building that addressed long views up Ladbroke Grove and the canal. The design overcomes significant site constraints due to an existing gas main crossing the site, daylight / sunlight issues and the building being adjacent to the elevated section of Ladbroke Grove Bridge and the Canal.

Despite the site restrictions, the apartments have been designed to maximize views over the canal and each apartment has been provided with private amenity space. In addition, two communal spaces have also been created; a courtyard at the entrance level and a roof terrace on the fourth floor with long views to the east and west over the canal.

All apartments are orientated north / south, minimising the number of windows opening onto the road to avoid noise and pollution from Ladbroke Grove, as well lack of privacy due to the narrow footpath and buses passing close to the buildings. This orientation also allows for views over the canal from living rooms and balconies in the south block.

A small and awkwardly shaped site which offered many challenges in terms of topography and underground utilities has been transformed by a cleverly arranged and contextually responsive building which has unlocked the potential of this constrained site. Externally the visible design features create a colourful and layered façade; including perforated, sliding aluminum screens, and glazed, coloured bricks to the south facing inset balconies. The colours were selected as a reference to traditional canal barge decoration. As well as providing animation to the frontage and privacy, the screens act as solar shades to provide shading from the south facing windows. These metal panels feature throughout the development and display a perforated fractal pattern designed with a repeating diamond motif, also taking inspiration for canal boat decoration.

The diamond motif is carried through to the green glazed bricks along Ladbroke Grovel. Here the shape is repeated as a traditional diaper pattern, using projecting Viennese-dipped glazed bricks within the Flemish bond to create a subtle and tactile pattern that animates the street scene.

The elevation facing the narrow street, St John Terrace, is clad in green glazed brick, topped by the external terrace, providing a softer termination to this vista.

CGL's approach has been to design a building that not only addresses and enhances the immediate townscape and canal frontage, but also creates high quality affordable housing. In this respect, the design team has also succeeded in challenging the perception of how affordable housing should look.
Featured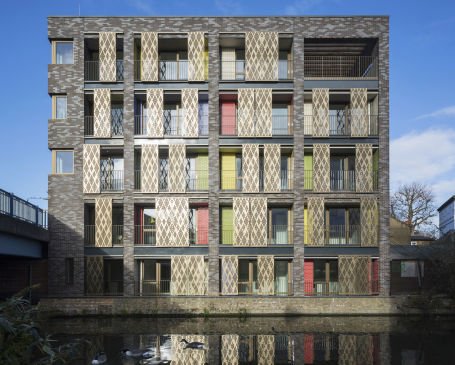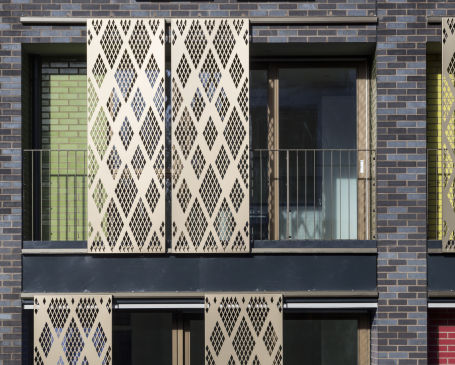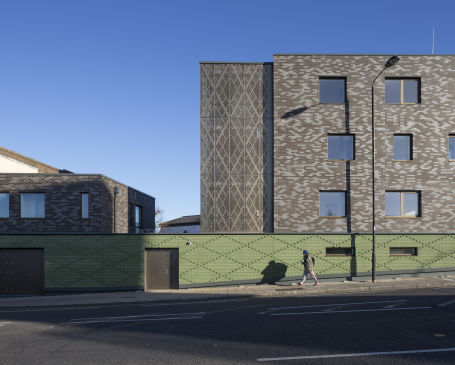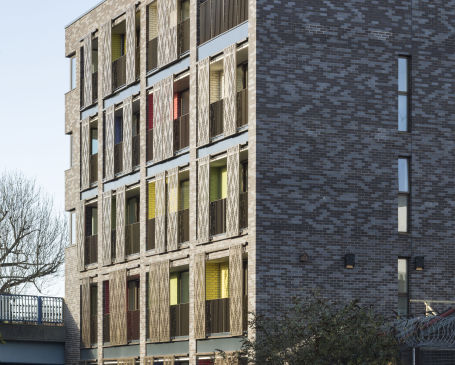 Related News
View All News & Awards