Trinity Islands receives planning permission
Manchester
27.07.2017
Allied London's Trinity Islands development has officially received planning permission from Manchester City Council.
Due to be the tallest residential scheme in North West England, Trinity Islands will provide 1,400 homes within five elegant towers. Designed by architectural and design practice, Child Graddon Lewis, this major addition to Manchester's skyline aims to set the precedent for future developments of this scale, reflecting the significant growth taking place in the region.
Mike Ingall, Chief Executive of Allied London, commented "This is an ambitious and important development. It is not simply a residential development; it's the creation of a community that can serve a much wider neighbourhood. Our experience in taking over the former Clarence Dock in Leeds and successfully delivering the new Leeds Docks shows the importance of creating appropriate mix of used around significant residential developments. Other developments in this new area have little to no community, retail, or recreational uses, so we have been keen that Trinity Islands will be the heart of this new area".

"We also intend to work with Manchester City Council to ensure the development is affordable for city centre workers, who currently have to suffer long commutes but would prefer to live in the city centre. With regard to the towers, in my view there is no point in building something on this scale if everyone can't appreciate and be part of it. The observation decks will act as visitor attraction and be a big draw – we want people to enjoy this development and be part of it".

James Sidlow, project director at Allied London, commented: "Trinity Islands is a scheme of scale; an ambition that reflects the city's own. It's about introducing height and creating a bold skyline in an area where it is appropriate to do so. Manchester is ready for Trinity Islands. Allied London are inspired by forward thinking global cities, but have also listened carefully to what Manchester wants. Residents want to feel part of a community with heart and soul, to feel connected to the city but also have all the amenities of a village on their doorstep."

Greg Jones, associate director at Child Graddon Lewis, comments: "Achieving planning consent represents a significant step forward in the delivery of Trinity Islands. Since we started working with Allied London on this scheme in 2014, we've focussed on creating a design that deals with the challenges of an isolated under-utilised site, bringing forward a development proposal that matches the city's ambition and drive with the scheme's architecture and social aspirations."

The Trinity Islands' towers will offer residents the ultimate in convenience, with farmer's markets, retail units and educational facilities forming the core of a city-centre village. This best-in-class neighbourhood will be a high-street and town square to its inhabitants, boasting independent bars supporting locally-brewed craft beer, cafes, community galleries and event space as well as a new boat club which will benefit from direct access to the River Irwell.

Trinity Islands' mission is centred on creating a sense of community, offering much more than just rooms to sleep in. It will provide facilities, amenities and spaces for social interaction, creativity and events; spaces where communities can form. Trinity Islands will function as a village centre not just for its own occupants, but for the growing neighbourhood in all the nearby residential-only developments; by providing grocery shopping, sport and exercise facilities, green space, education, culture, dining and drinking and affordable flexible workspace.
The design

The scheme has been designed as a composition from a number of key view locations around the city. The orientation and arrangement of the blocks allows sightlines through the silhouette, while maximising the potential of this underutilised site. This approach provides a high density of housing, generating a critical mass in population to support the commerce and amenity that will make this a vibrant and sustainable place to live and work.

The elevational treatment reinforces the compositional nature of the massing arrangement; the colours to each façade will shift in hue and intensity as the angle of view changes, with each tower changing at a different rate as the observer moves around or through the scheme. It is a kinetic design concept, responding to the surrounding transport routes by road, rail, river, cycle or foot travel.

New public realm will stitch the development into the surrounding city, entirely regenerating a derelict waterfront and forgotten piece of Manchester sandwiched between a ring-road, a trainline and a waterway.

The planning consultancy was managed by Deloitte and Allied London proposes to start construction in 2018.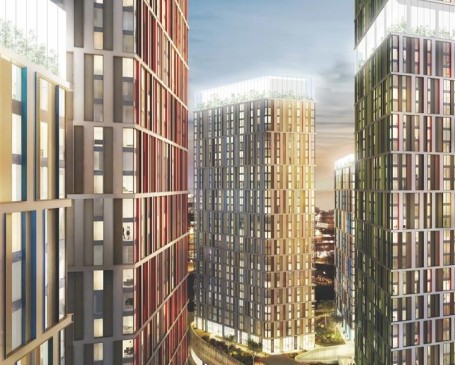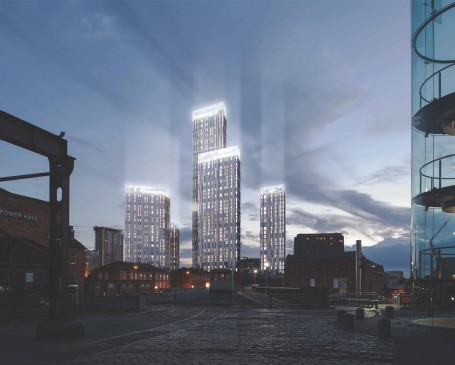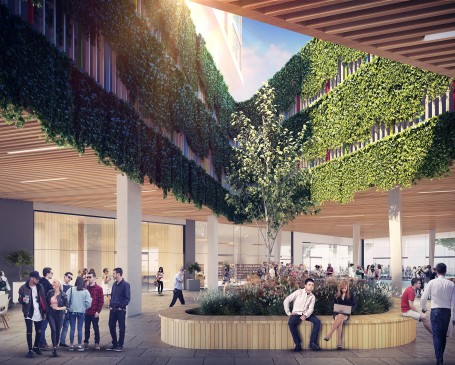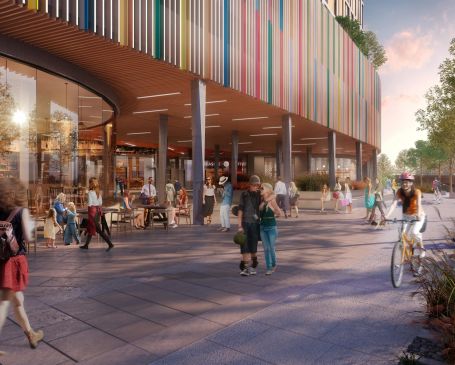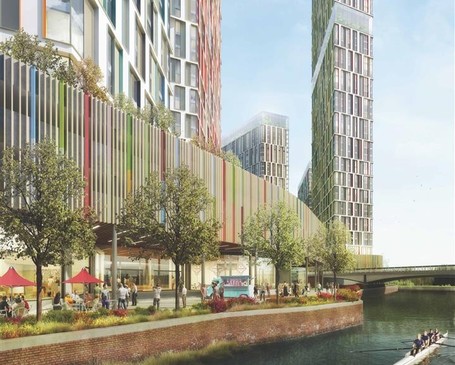 Related News
View All News & Awards