Simon Child reacts to the Mayor of London's 'A City for All Londoners'
26.10.2016
This week, the Mayor of London published his 'A City for all Londoners' document, promoting the commercial and residential development of London's outer areas. Ahead of the next London Plan, this announcement gives insight into his strategy behind meeting a significant annual housing target.
Simon Child, director at CGL, comments: "We welcome the Mayor's 'A City for all Londoners' announcement, especially as it identifies the considerable potential to bring life back to the outer suburbs of London. A focus on providing much-needed private and affordable housing in these areas, in addition to creating further employment opportunities, allows for better places for people to live and work. It also prevents these environments from becoming the same as their inner, intense urban counterparts.

"The development of work space within these new communities leads to less pressure on our public transport. With regular headlines on the state of our infrastructure capabilities, as well as the cost of providing new systems, there's no doubt that this is a crucial talking point. Simply put, if you reduce the need for people to travel into London for work, there's less strain on busses, tubes and trains. This paves the way for healthier local commuting options, such as cycling and walking.

"Our current research, exhibited at the London Festival of Architecture, titled 'Find the Gap', highlighted untapped resources of land in Outer London. Within this, we defined the type of sites that remain undeveloped and made practical suggestions for identifying those sites and making them viable, including the prospects for improved connectivity or transport capacity.

"It's important to remember that there is a significant amount of underused brownfield land in the outer parts of London and, if redeveloped with three to five storey buildings, we can easily achieve the target of 70,000 new homes each year. Additionally, we need to look at the wider picture and develop new and existing neighbourhoods with surrounding workplaces, schools and other local community amenities. This will ensure a more varied and better quality of life, as well as a more sustainable city for the future."
To read more about the 'A City for All Londoners' plan, including Simon's comment, click here.

Featured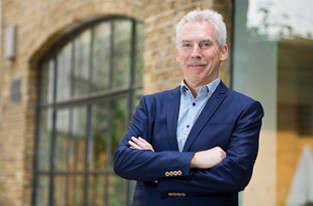 Related News

View All News and Awards