Paris to Nice and Tour De Yorkshire 2016
27.04.2016
The Wheels of Steel team are back and have signed up to the biggest challenge of their lives, from Paris to Nice to raise money for CRASH.
CRASH are an amazing charity run by only 4 people who address the needs of homelessness by harnessing the skills, products and goodwill of the construction and property industry to improve hostels, day centres, night shelters, training centres and move-on accommodation, for front-line homelessness agencies who work directly with homeless people. CRASH are celebrating their 20th anniversary and channel 100% of all donations received from fundraising events directly into helping projects that support individuals damaged by the experiences of homelessness in an attempt to help them reconstruct their lives. You can find out more about the work they do at: Please visit the CRASH website www.crash.org.uk to see examples of the projects they fund and support.
The CGL WOS'ERS will be cycling Tour de Yorkshire Sportive on 1st May and also riding 900km from Paris to Nice.
The10 riders from CGL supported by AC Transport and MOTIS will set off on May 12th from The Eiffel Tower with the aim to reach Promenade des Anglais in Nice four days later.
Our ride is completely supported by the riders themselves, their families (AC Transport) and CGL so that all proceeds we raise will go to CRASH.
We appreciate the huge support we have received in the past and so if you are unable to support us this time all we would ask is if you would like to send us messages of support or let your friends and colleagues know about the amazing work CRASH carries out and, if possible, make a donation however small to our fund raising page.
If you would like to support CRASH and help us reach our fundraising target please visit our JustGiving page: www.justgiving.com/cgl2016-cycle or text CGLC92 plus the amount that you wish to donate to 70070

Featured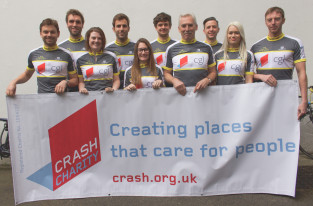 Related News

View All News and Awards