Tour De Yorkshire 2015 – Heroes of the Hills
05.05.2015
On Sunday 3rd May, more than 500,000 people braved the wet and windy weather to support riders from across the world in the final leg of the Tour De Yorkshire, from Wakefield to Leeds. Amongst the cyclists, team CGL lined up at the start to officially commemorate the opening of our new Leeds office in the true spirit of the North; by testing our legs over the mountainous terrain and through all the chaos that mother nature could muster.
For over six hours the team battled wind, rain and 20% gradient hills, taking in what was visible of the scenery as they whizzed through the Yorkshire countryside completing six classified climbs included the Cow and Calf before racing into Roundhay Park for the finish.
A massive thank you to all those that supported us on the day and our team mates Toby Anstruther (South Kensington Estates), George Baron (RP&P), Trisha Barton (Barton Legal Ltd), Toby Fox (3Fox International Ltd), Peter Murray (NLA) and Sean Wilkinson (Willmott Dixon); and to our support team AC Transport's Arthur and Linda Carlos for helping us raise so much for our charity St Leonards Hospice…..
Until the next time…..CGL Woser's
Simon Child, Stephanie Carlos, James Felstead, Emily Fitch, Ian Givin, Sophie Hanrahan, Samantha Skinner, Adrian Stubbs, and Sophie Waterhouse.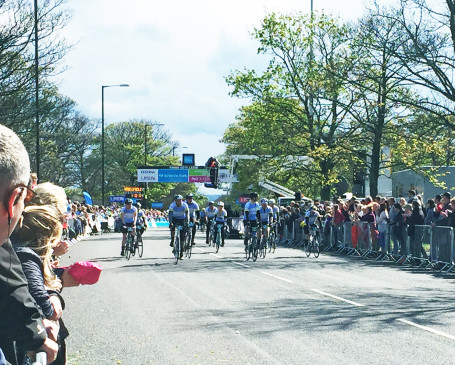 Related News

View All News and Awards